David Ngog offers Liverpool late relief against Unirea Urziceni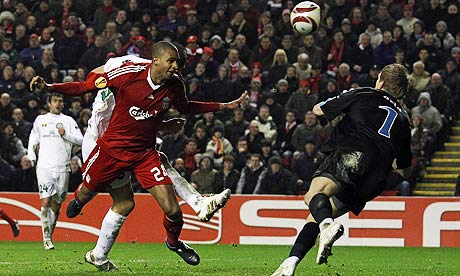 "Liverpool made a difficult descent from the Champions League into European football's second tier tonight and the most worrying aspect for Rafael Benítez was that their work-rate, commitment and attitude were not to blame. The fault was simply that which dragged them into the Europa League against Unirea Urziceni to begin with: a lack of quality when faced with obstinate opponents, although the late impact of two substitutes at least granted Anfield a slender lead to defend in Bucharest next week.
Benítez had issued sufficient warnings that a Europa League containing Juventus, Valencia and Atlético Madrid is not to be taken lightly and much of this encounter proved it can be problematic from the outset. Only when David Ngog headed home from close range in the 81st minute, having been teed up by a combination between Ryan Babel and Daniel Pacheco, did the anxiety around Liverpool's first fixture at this level for six years begin to disappear.
The Romanian champions were effectively starting anew at Anfield, having lost the coach who guided them to impressive Champions League wins over Sevilla and Rangers in the first half of this season, the former Chelsea full-back Dan Petrescu, and several key players since last playing a competitive fixture back on 14 December. It did not take long for the rust to show. Unirea gifted possession to Ngog straight from the kick-off and within 26 seconds their goalkeeper, Giedrius Arlauskis, was required to make the first save of the night, reacting well to Steven Gerrard's placed effort towards the top corner after Fábio Aurélio and Dirk Kuyt had combined to send the Liverpool captain clear. A long night on the back foot beckoned immediately for a team who prepared for this date with a 1-0 win at Northwich Victoria on Monday.
Benítez had set the correct tone for a competition that will not be derided at Liverpool should they advance towards the final in Hamburg in May by fielding a strong side. There was certainly no evidence of a preoccupation with Sunday's important league game at Manchester City in the manager's selection and his side responded accordingly, showing few signs of complacency towards the competition in a dominant start.
Kuyt dragged another opening wide of the far post and Gerrard sent Albert Riera's cross off target when picked out for a free header inside the area.
Those missed opportunities gave credence to Benítez's pre-match assertion that patience would be required against opponents whose virtues lay in defence. The Liverpool manager called that one right, although mainly due to the fact it was impossible to assess the attacking potential of a Unirea team averse to moving forwards.
On the first two occasions the visitors ventured into the Liverpool half they opted to release possession as quickly as possible, Sorin Frunza ignoring his team-mates in favour of rolling a hopeless free-kick at José Reina and Marius Onofras deciding it was somehow a good idea to attempt to beat a goalkeeper of the Spaniard's calibre with a gentle punt from the halfway line.
All of which, of course, brought frustration to the surface at Anfield the longer the contest remained scoreless. Javier Mascherano almost produced a magnificent breakthrough with a 35-yard drive that was deflected away from Arlauskis's net via a defender's shoulder and, following a subdued first half, Ngog exploded to life with a neat turn and shot under ­pressure that rolled narrowly wide.
Despite Gerrard's probing and movement behind Ngog, Riera's inconsistent forays on the left and dominating possession to a greater degree than they have in months, Liverpool struggled to find a way behind the Romanian defence. Indeed the longer the tie wore on the more it appeared Liverpool's early superiority was a result of a gulf in match fitness and not, as Anfield had hoped, class.
Benítez's team did not help their cause with increasingly careless distribution, not that it compelled Unirea to show any ambition, and it was only when Aurélio drilled a left-foot shot wide from 25 yards in the 62nd minute that the visiting goalkeeper had to be alert again. After squandering several chances to cross from the left Riera was withdrawn to sarcastic jeers from the home crowd and his replacement, Babel, at least injected some urgency into Liverpool's play.
Martin Skrtel headed wastefully over from close range when Aurélio's corner found him unmarked and Arlauskis saved from Gerrard, until Ngog finally spared Liverpool's embarrassment."
________________________________________________________
I know Unirea can win the next leg in Steaua's stadium! We still have O.K. chances of getting through, but Liverpool are a top class squad. Very nice defense displayed by Unirea though, and Paduretu played amazing! Gerrard and Kuyt had a lot of chances for the Reds, but the Frenchman (Ngog)'s 81st minute goal Fantastic keeping from the young Lithuanian international, Arlauskis! He made incredible saves and dives.
made the difference.