"
Gigi Becali: 'My family waited for the Americans and now I bring one to Steaua!'
Gazeta
has found out the name of the player from USA which Steaua wants: Josh Tudela. He is midfielder, is 25 years old, he played with Beckham at Los Angeles Galaxy and he will be tested by Steaua in the training camps from Turkey
'Pele from Evansville', this way is nicknamed Josh Tudela, central midfielder of 25 years old, who will come as Stoichiţă's player for tests in the training camp from Antalya
While waiting for Iovov and Ouon, Steaua negotiated few days ago in secret with another player. He is American, Josh Tudela, who played last time for Los Angeles Galaxy, where he had been colleague with David Beckham for two years.
He will be tested in the friendly matches from Turkey
Tudela, who is an offensive midfielder, is free of contract since this summer and from that moment on he didn't play. He will come in the training camps of Steaua from Antalya and he will be tested in the friendly matches and if he plays good and he convinces Stoichiţă, then he will sign an agreement with Steaua.
The DVD with Beckham convinced Stoichiţă
Stoichiţă has seen on two DVDs and one was a friendly match since December 2008 between LA Galaxy and the team of Oceania's States. The score was 3-0 for the American team, in a match in which Beckham evolved as right midfielder, and Tudela in the center, the two players have changed a lot of passes during the match.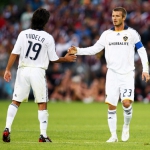 Technical and crabbed

Tudela has started to play football in the team from his high-school, being declared the most offensive football player. After he had moved to the professional football he was surnamed "Pele from Evansville" because of his excellent technique. He has won a famous competition of juggling with the ball and he managed to keep the ball without falling for 40 minutes.

Who is Tudela
-
he was born on march 13, 1984, in Evansville (Indiana)
- he is 1,75 meters tall has 72 kilograms
- in 2003 he played at West Michigan Edge
- in 2004 he evolved for Fort Wayne Fever
- in 2007 he moved to California Victory, after he was bought by L.A. Galaxy
- in the last two years and half he played only 23 matches in the American first league
16 months
passed since Tudela has scored the first and the only goal for LA Galaxy, in the match with FC Sydney (3-0) in the championship Pan-Pacific"